Complete Home Service Options In Roanoke, VA
You need to do many tasks around your home to keep your house and your family safe, healthy, and happy. You can easily perform some of these tasks yourself, but others require the skilled hands of a trained professional. Below you'll find a list of all of the home services offered by Star City Home Services and a brief description of each.
Attic Insulation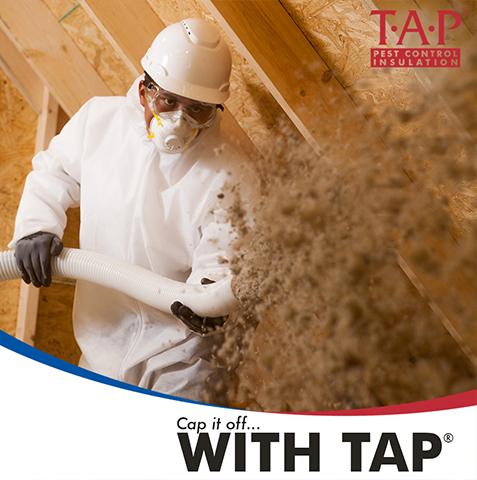 Under-insulated attics are a big problem in the United States. In fact, nine out of ten homes in the U.S. are under-insulated. While this may not seem like a big issue, it is, and it costs homeowners a lot of money each year. An under-insulated attic allows your home's hot air to escape in the winter and cold air to escape in the summer. Drafty attics cost you money in heating and cooling costs and cause your HVAC systems to work harder to maintain your home's temperature, creating a shorter lifespan for them.
A properly insulated home is energy-efficient and, most importantly, provides a comfortable and healthy environment for you and your family. At Star City Home Services, we can help you by performing a thorough attic inspection and removing and installing insulation as needed.
If your Virginia home requires more insulation, our professionals will install TAP Attic Insulation. Using TAP to insulate your attic space has many benefits. This recycled paper insulation keeps winter's cold air out and warm heat in and the opposite in the summer, saving you up to 30% in your energy bills. TAP insulation is also very effective at trapping sounds and making your home quieter by keeping outside noises out. In order to help act as a barrier against pests, the TAP insulation has a coating of a borate pesticide, which causes insect death, keeping your home free of damaging bugs.
To learn more about our attic installation and removal process, call Star City Home Services today and speak with one of our friendly and helpful professionals! We want to help you maintain a comfortable home through a properly insulated attic space!
Chimney Caps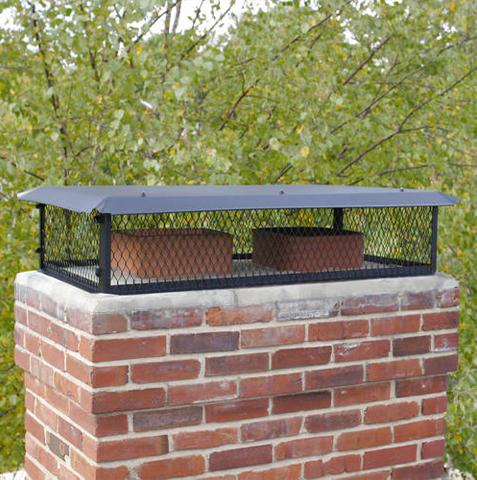 Placing chimney caps on your home's chimney is important for many different reasons, including the most significant benefit of protecting your chimney and house from developing unwanted problems. Before talking about the benefits of chimney caps, let's first go over what a chimney cap is! It is a screened metal structure located at the top of the chimney. It covers most of the chimney's opening that leads into your home while still allowing smoke to escape.
Chimneys that do not have caps on them often cause a home to have moisture issues. If rainwater is constantly getting into your chimney, it can lead to mold and mildew growth. Constant moisture will also cause brick and mortar to decay faster. Another benefit is helping to contain embers and sparks, stopping them from landing on your roof. Wild animals like birds and rodents often enter into homes through chimneys. Installing a chimney cap is an easy way to keep wild animals out of your home. In addition, chimney caps help keep debris out of your chimney that the wind would otherwise blow in.
If you would like to learn more about chimney caps and how they can help you maintain your Virginia home's structure, and protect your chimney from damage, reach out to Star City Home Services. The goal of our family-owned company is to protect your family's home from damage!
Christmas Lights Installation
Installation
Our fully licensed and insured installers have the tools and experience to do the job. Every Christmas light installer has been fully trained to properly install your Christmas lights with your home in mind. They use systems and methods to install your lights quickly, efficiently, and without any hassles. We take pride in providing our customers with quality professional installation to ensure your lights are installed with the utmost care.
Maintenance
Our goal is to take the hassle out of your holiday lighting and give you more time with your family! When bulbs go out or winds displace your lights, give us a call and we will come fix it. We will make sure your holiday lights stay looking perfect all through the season.
Removal
After the holidays, our crew will be back to take down your lights with the same attention to detail and care as your installation. Removals begin January 2 and go through the end of January (weather permitting).
Crawl Space Encapsulation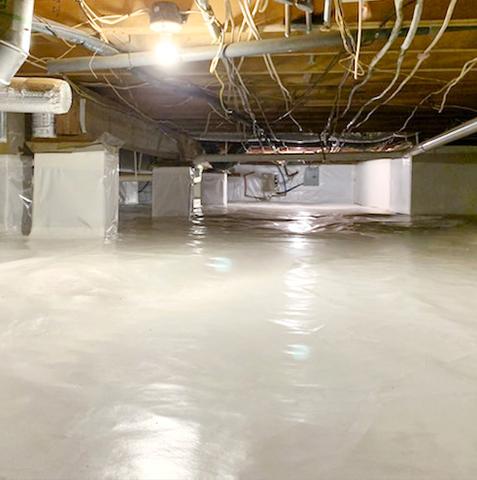 Throughout Virginia, houses built over a crawlspace are quite common. The crawlspace certainly has its advantages. It often allows for easy access for the installation, maintenance and repair to items such as gas lines, electrical lines, HVAC ventilation systems and plumbing lines. However, the crawlspace can also present disadvantages.
In Virginia, we experience hot, humid weather, which can be detrimental for the conditions inside a crawlspace. Traditionally, houses with crawlspaces must have vents installed within the foundation walls. The vents are to allow for circulation of air. However, the vents also provide a point of entry for moisture. Moisture can also enter a crawlspace from the soils below and/or from existing drainage issues around a home. Moisture accumulation threatens structural elements of your home including beams and piers that weaken due to rot. Excessive moisture often occurs in homes with vented crawl spaces, rather than sealed crawlspaces. If excessive moisture is not addressed it can cause mold, mildew, fungi, musty air, standing water, pest problems and more. A crawlspace is part of the foundation of your home and should be treated with importance like the rest of your home. Homeowners can avoid structural damage and the other many issues caused by excessive moisture by having a proper crawlspace encapsulation system installed. With the proper system in place, it will reduce temperatures, limit humidity, improve air quality and prolong the life of your crawlspace and home.
A proper crawlspace encapsulation system is one of the most efficient and effective ways to control the levels of moisture and humidity inside a crawlspace. Star City Crawl Space specializes in the installation of crawlspace encapsulation systems that are tested and proven. We use quality materials that far exceed the industry standard to ensure that each system works properly and stands the test of time. Each masonry pier, foundation wall, opening and penetration is properly wrapped and sealed. The entire space is covered and sealed using a 15-mil vapor barrier.
Our crawlspace encapsulation system will:
Remove unwanted moisture from your home
Prevent structural issues
Energy efficiency – can reduce energy bills up to
20%

Added storage space
Prolong life of heating and cooling equipment
Increase value of your home
Promote cleaner air
Wildlife Exclusion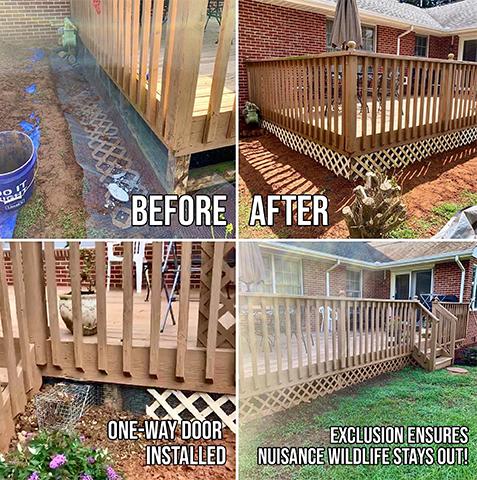 Wildlife exclusion is a crucial part of any wildlife control and prevention solution. Exclusion is the system whereby all entry points into your home and its structure are inspected and sealed off to prevent the infestation of pests and/or wildlife. Once an animal has entered your home and nested, removal is only the first step in protecting your property. Without wildlife exclusion, animals will find their way back in and continue to use your home as a place to dwell. The exclusion process is a method to set up a barrier between your home and the wildlife that is trying to get in and will serve as a longterm solution to any wildlife intrusion.
One of our trained wildlife technicians will inspect and analyze the entirety of your home's exterior and discover any weak points that an animal could enter into. Traps will be set and distributed throughout the affected area to begin catching the wildlife inside the property. After removal, these potential openings will be properly sealed and/or repaired using materials and sealant to prevent wildlife from future entry.
Once the animals have been removed and your home is properly sealed and/or repaired, a disinfectant process occurs. Droppings and urine can cause health issues for humans, pets and animals. This damage will be cleaned up, removed, repaired, and properly sanitized.
To learn more about keeping wild animals out of your home through the exclusion services provided by Star City Home Services, give us a call today. Let's work together to keep unwanted animal intruders out of your house and away from your family!
Request Your Free Inspection
Complete the form below to schedule your no obligation inspection.